Fossil fuel companies have a proud tradition of lobbying against environmental laws and taxes that may dent their enormous profits.
Following the 2022 federal election, Labor-aligned lobbyists are enjoying their time in the sun.
One of the world's largest coal exporters, Glencore, is employing Anacta Strategies, GRACosway and Nexus APAC.
Anacta and Nexus APAC are registered as working for Glencore in Queensland. Anacta is registered as its lobbyist in Canberra and GRACosway is lobbying for Glencore in NSW.
Anacta Strategies is strongly Labor aligned. In fact, a Queensland integrity review found two of its lobbyists worked on the state Labor party's 2020 successful re-election campaign. They were reportedly "double-hatting" – working with Labor while also lobbying Labor on behalf of other clients. Two of its advisors have since been barred from approaching the Queensland government for two years.
But Anacta is still going strong and since the 2020 election has had more than 550 meetings with Queensland government officials.
The Courier Mail describes how things worked in Glencore's favour.
"The government offered incentives to mitigate the ongoing costs to Glencore of continuing its copper smelter in Mount Isa and refinery in Townsville beyond 2022. The announcement was made in September 2020 – just weeks after Glencore became an Anacta client in August. A representative of the lobbying firm made contact with the Chief of Staff for the Office of the Treasurer and Minister for Infrastructure and Planning on August 18, 2020."
The amount taxpayers gave Glencore has not been revealed.
One of the barred lobbyists, Evan Morehead, is now reportedly setting up Anacta's Canberra office.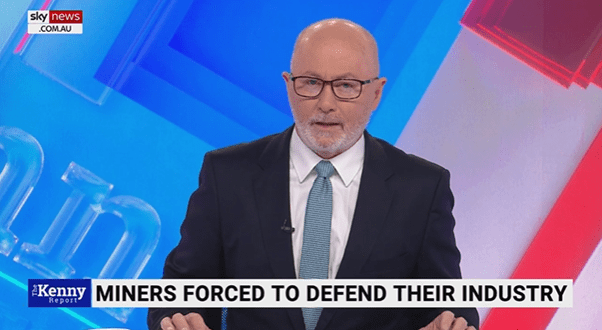 Also going into bat for Glencore is Sky News' Chris Kenny. In a segment about the Fossil Ad Ban campaign he played Glencore's entire new TV ad and then interviewed the NSW Minerals Council for a hot take.
Neither discussed that burning fossil fuels causes serious health problems and premature deaths, and they didn't mention the costs and impacts of climate change.
They did claim that fossil fuels saves lives (without data) and that the Fossil Ad Ban is an attack on free speech.
But do multinational corporations that make billions in profits from extracting Australian resources really deserve unregulated access to our airways, newspapers and social media? And is that right more important than our rights to clean air and a healthy climate?
FACT CHECK
The NSW Mineral's Council CEO also falsely stated that Glencore is the "world's largest miner of lithium which is needed for batteries and the renewable energy transition". In fact, Glencore is the world's largest miner of Cobalt. Not even in the top five for lithium.
FUN FACT
Fossil Ad Ban's ads are categorised as 'social or political' by Facebook, which restricts content and forces disclosures. Ads from Glencore are mostly not considered political and can run without disclosures. What we can tell you is in July they ran 16 Facebook ads, spent more than $11,000 on YouTube (according to Pathmatics) and also advertised on Sky News Australia. Support, we're sure, their lobbyists are grateful for.