Ad Standards has dismissed a complaint from Comms Declare about a social media post on Ampol's 'carbon neutral' fuel.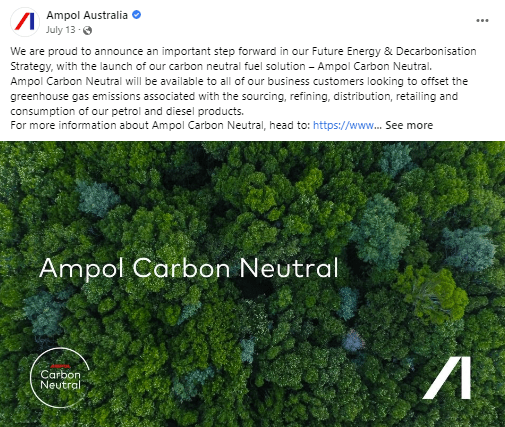 The Facebook post shows an image of treetops with the words "Ampol Carbon Neutral" and claims Ampol can offset all the greenhouse gas emissions from the production and use of petrol and diesel.
Through the Environmental Defenders Office, Comms Declare argued the ad was deceiving as the efficacy of carbon offsets cannot be proven.
However, Ad Standards did not test whether carbon offsets were effective, stating in its ruling,
"The Panel noted that the complainant's concern appeared largely related to the viability of offsetting as a way to reduce emissions. The Panel noted that it was not its role to adjudicate on the legitimacy of carbon offsetting programs. Rather its role is to consider whether an average person in the target market would be likely to be mislead by the content of the advertisement."
In responding to the ruling Comms Declare Founder Belinda Noble said facts needed to be taken into account in Ad Standards rulings.
"Ignorance is currently bliss when it comes to environmental claims in advertising. If the Ad Standards Panel thinks a 'reasonable person' falsely believes something, then that is enough to defend false or unproven claims.
"So, the more effective polluters are at convincing the public about false green claims, the less likely Ad Standards is to penalise them."
"The current Code basically encourages greenwashing and must be urgently strengthened."
Ad Standards also found there was sufficient detail in the Facebook post to prove the petrol is 'carbon neutral'.
Ampol defended the claim, stating the ad was not misleading or deceptive and that its offset program is certified by the federal government's 'Climate Active' program.